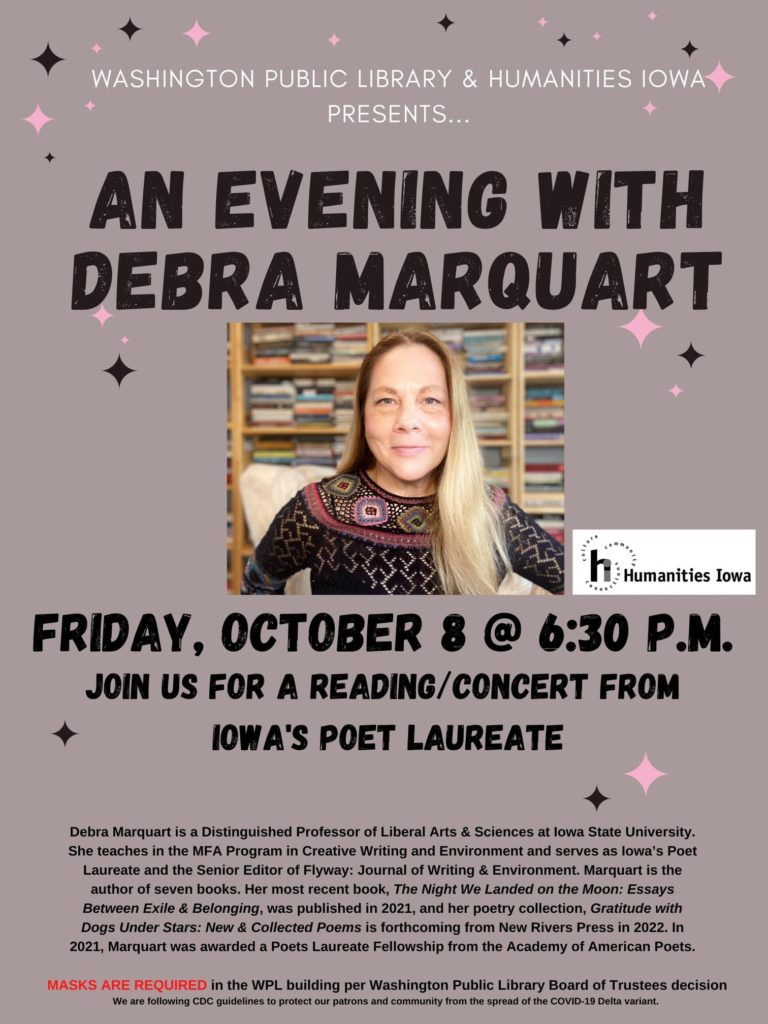 Washington Library, Conservation Hosting Iowa's Poet Laureate This Weekend | KCII radio
[ad_1]
Washington Counties have two options this weekend to spend time with Iowa's award-winning Poet.
The Washington Public Library is hosting a reading and concert with Debra Marquart tomorrow at 6:30 p.m. as part of the Humanities Iowa program. Face masks are required as per library council guidelines. The library is also hosting a special Washington Writers' Workshop, Sounding Our Place Hike & Write, with Marquart and Washington County Conservation Naturalist Megan Jorgensen on Saturday at 10am in Marr Park near Ainsworth. This event is open to all ages, but anyone under the age of 12 must be accompanied by an adult. Participants are asked to bring a notebook and writing utensils and do not have to go for a walk to participate.
Marquart is a distinguished professor of humanities and humanities at Iowa State University. She teaches Creative Writing and Environment in the Master of Fine Arts program and is Senior Editor of Flyway: Journal of Writing & Environment. She has authored seven books and was awarded a Poets Laureate Fellowship from the Academy of American Poets this year.
921848379
Mozilla / 5.0 (Macintosh; Intel Mac OS X 10.11; rv: 49.0) Gecko / 20100101 Firefox / 49.0 (FlipboardProxy / 1.2; + http: //flipboard.com/browserproxy)
c31ec963a95e729283a023e2dae791b3dd1d6e48
1
[ad_2]