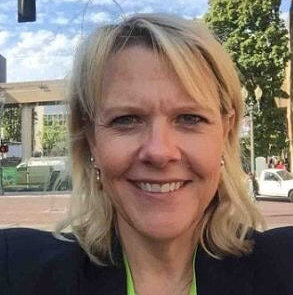 It's National Mentoring Month everywhere – and especially in Thurston County
[ad_1]
By Mary Beth Harrington
Happy New Year! I recently saw several posts from friends suggesting that setting resolutions might be a negative measure and that they would prefer to choose a more positive New Year response. (I think it's like when I tried not to give up anything for Lent but to do something positive – the nuns didn't buy it).
If you're more into the camp of dissolution, here are some things to consider.
What is mentoring?
There are many forms of mentorship; However, the mentoring I am referring to here is when an older person, usually an adult, supports the critical social and emotional development necessary to build resilience and the mental health of someone younger than himself of a child or young person.
Think about it, who taught you to ride a bike, cook macaroni and cheese, or shake hands? If that person hadn't been in your life, would there have been someone else who would have shown up?
National Mentoring Month
Every January, mentoring nonprofits come together to celebrate and promote National Mentoring Month.
(I remember getting so excited one January while working for a mentoring organization when a mentoring poster was shown in the background of an episode of the television series "Friends." It was in Ross' classroom.)
National Mentoring Month is run by MENTOR, an organization founded in 2002 by NBA legend Bill Russell and singer-songwriter Usher to unite the movement. According to its website, they are "harnessing the power of their collective voices to recruit new mentors, advance mentoring legislative priorities, and drive meaningful change for young people."
Does mentoring make a difference?
According to MENTOR, mentors play an important role in providing young people with the tools to make responsible decisions, attend and participate in school, and reduce or avoid risky behavior.
Young people with mentors are:
55% more likely to enroll in college
81% more often say they regularly participate in sports or extracurricular activities.
78% are more likely to volunteer in their communities.
More than twice as often, they stated that they held a management position in a club or sports team.
The same research shows that every third young person in our country grows up without a mentor.
With January being the month of resolutions, it's no surprise that this is the time of year when mentoring reaches its peak. To learn more about National Mentoring Month or to become a mentor, go to https://www.mentoring.org/campaigns/national-mentoring-month/ or contact one of the following local organizations.
Mentoring that fits your schedule
Big brothers and big sisters
When I say "mentoring" a lot of people think of Big Brothers and Big Sisters (BBBS); However, mentoring may not be what you envision. Life is busy for everyone, so BBBS has adjusted its program so that its mentors (whom they call "Bigs") meet with their "Littles" two to four times a month (four hours total) at a convenient time for both of them . BBBS also offers location-based mentoring, where you meet with your little one at a BBBS partner location such as a school for an hour a week (or at least twice a month). This can be during lunch or after school. For more information on our local organization, BBBS of Southwest Washington, visit https://www.swwabigs.org/
TOGETHER!
A similar location-based mentoring organization is TOGETHER !, a community-based organization that works with the Tumwater School District to provide services to students and their families. More details can be found at https://thurstontogether.org/
Thurston County's Boys 'and Girls' Clubs
Boys & Girls Clubs of Thurston County also offers unique volunteer opportunities as well as ongoing volunteer positions in each of its seven locations. Many volunteer opportunities can be tailored to your schedule and include working with teenagers through one-to-one tuition, homework help, art projects, and leisure activities. More details can be found at https://www.bgctc.org/get-involved/volunteer/
Community youth services
Community Youth Services offers volunteer opportunities that range from direct work with young people to support with administrative tasks. The time commitment can relate to a short-term project or a multi-year partnership. Check out their website below https://communityyouthservices.org/get-involved/volunteer/ for current possibilities.
Virtual mentoring
Given the advances in technology and the restrictions imposed by the pandemic, many organizations have adapted their mentoring program to include text or video chat check-ins. One such organization is empower HER, a national organization that brings women over 25 who have lost their mother together with young women who have also lost their mother. According to their website, mentor meetings can take place in person or virtually around milestone moments such as holidays, shopping for back to school, mom's anniversary or birthday. Virtual mentor matches can include attending an empowerHER VIRTUAL event, Zoom / House Party / FaceTime calls, Netflix Watch parties, virtual museum tours or just a phone call or SMS to check in and show support. For more information on this program, see https://www.empoweringher.org/
Mentoring from teenagers to teenagers
Thurston and Mason Counties' Crisis Clinic provides a telephone service through its Teen / Youth Helpline that provides crisis intervention, emotional support, information and mediation resources. Teen Volunteers must be at least 15 years old, have received required training, and have received permission from their parent or guardian. More details can be found at http://crisis-clinic.org/volunteer/
Latino mentoring programs
The Hispanic Roundtable Latino Mentoring Program serves as a support system for youth in the Latino community by connecting them with committed adults. For more information, contact [email protected] or check http://hispanicroundtable.org/wp/
Resources for senior mentoring
The Catholic Community Service Foster Grandparents Program recruits seniors serving children from preschool ages through 18 in schools and other locations across West Washington. For more details, call 1-800-372-3697 or go to https://ccsww.org/.
We ask for your ideas
If you know a nonprofit that's doing something great, celebrating a success, in need of outstanding volunteers, or hosting an event, let me know! This column celebrates (aside a little education) nonprofits!
Mary Beth Harrington, CVA (Certified Volunteer Administrator) lives in Tumwater. She travels the country speaking at conferences and to individual organizations to articulate issues that nonprofits face. Send your ideas to her at [email protected]
[ad_2]