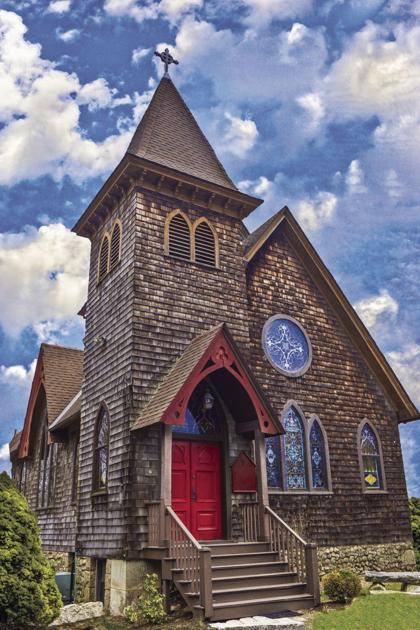 Parish Church Announcements | Community news
[ad_1]
ALVERDA – The Christian church of Alverda will meet for service on Sunday from 9:50 a.m. to 10:50 a.m.
Alverda claims that through worship we become a stronger witness to reach our fellowship.
Pastor Travis Trimble will bring the morning message. Communion is served. Prayer requests and praise, music and community time are kept.
Autumn activities are being planned.
The public is invited to join us in worship, fellowship, and participation in meeting the needs of the fellowship.
For more information, call (724) 549-4358.
BLAIRSVILLE – United Presbyterian Church, 137 N. Walnut St., will host an internal and online service with Rev. Timothy Monroe on Sunday at 11am.
Scriptures are Esther 7: 1-6, 9-10; 9: 20-22 and James 5: 13-20.
Livestream access is available at www.r-church.com and on the Church's Facebook page.
Sunday school classes are at 9:45 a.m.
Christ Episcopal Church, 902 Philadelphia St., will offer Holy Communion on Sundays at 8:00 am and 10:30 am
Crete Presbyterian Church, 25 Brady Road, Indiana, will meet with Katie Ward Stear for service on Sunday at 11 a.m.
Scriptures are Proverbs 8 and James 3: 13-18, and the sermon is titled "Wise Up!".
Lily Carone and Flora Isenberg will have special music.
You can also listen to the service on FM 88.3 in the church parking lot. All are welcome.
Sunday school is at 9:45 a.m.
The Clara Henderson Mission Group sells homemade stuffed paprika and potato cream soup. The proceeds go to missions. Order by October 10th to pick up the soup on October 17th.
HOMER CITY – The United Methodist Church in Homer City will host Sunday school for adults at 8:30 am and services at 9:30 am on Sundays.
This week's sermon "Healing" is based on James 5: 13-20.
HOMER CITY – Homer City United Presbyterian Church, 40 E. Elm St., holds services on Sundays at 11 a.m.
We cordially invite you to join us in praising the Lord for all that he has done for us.
INDIANA – Grace United Methodist Church, 50 S. 7th St., will hold services on Sunday at 9am and 11am.
Pastor Bill Blair starts a new series of sermons, "The Tremendous Trios". His message this week is, "The three sons of Adam and Eve," with scriptures from Genesis 4: 1-15.
The Sound of Grace Orchestra under the direction of Paul Rode will provide the special music "Amazing Grace" at the traditional church service at 9 am. The setlist for the contemporary worship service at 11:00 AM is "House of the Lord", "Ruthless Love", "10,000 Reasons (Bless The Lord)" and "Blessed Assurance".
The children's church is available during services and the kindergarten is open all morning.
We invite you to attend an adult Sunday School class that meets at 10:10 am between services. The Live Wire class meets in room 102, the Journey class meets in room 208, and college students and young professionals meet in room 207.
A new Sunday School class called "Learn the Bible" begins on Sunday at 10:10 am in room 205. It is aimed at: 1) those who know nothing about the Bible but are curious and 2) those who are Familiar with the Bible but would like a deeper understanding of the main characters, timeline, and background information about life in the first century when Jesus came on stage. It is headed by Kenny Schramko.
MARION CENTER – Presbyterian Church of Marion Center, 206 High St., will serve at 10:30 am on Sunday.
Scripture is Matthew 28: 16-20, "One more thing". Jesus had a "One More Thing" moment with His disciples that applies to all of us today and every day.
MARION CENTER – Marion Center The first United Methodist Church will hold a service on Sunday at 9:30 am.
Join us in our autumn series: "Our Favorite Verses". Pastor Erica will deliver a message entitled "Time, Time, Time".
Scripture is Ecclesiastes 3: 1-8.
SHELOCTA – Shelocta Community Presbyterian Church, 182, S. Ridge Road, welcomes everyone to attend the 10am Sunday service
Pastor Kathy Nice continues the sermon series in September with "Baggage – Fear and Scarcity Become Abundant".
Services are personal and also live on Zoom. Those interested in Zoom should contact the church office at (724) 354-2352 for details.
Calvary Bible Church members invite the congregation to their Sunday services.
The service is at 11 a.m. Pastor John Traxler will deliver the message "The Mystery Revealed".
Sunday school is at 10 am with an emphasis on Revelation chapter 20. At 6 pm there will be a prayer meeting and Bible study with the message "A Living Connection."
For more information, call (814) 743-5448. The church is located at 2712 Pinevale Road, between East Run and Rochester Mills.
SAGAMORE – The Lordsmen, a southern gospel group based in Elkview, W.Va., will perform at Community Bible Church on Saturday, October 2 at 7 p.m. and Sunday, October 3 at 11 a.m.
BLAIRSVILLE – Hopewell United Methodist Church, 150 Hopewell Church Road, is holding its second annual Thanksgiving Day on Saturday October 2 and Sunday October 3.
On October 2nd, the Waymasters Gospel Group from Tennessee will perform from 4pm to 6pm. A hymn will then be sung from 6 to 8 p.m. There will be a free hot dog roast and s'mores. Mike's Kettle Corn will be on site and an auctioneer will host a pie and cake auction.
On October 3rd from 1pm to 6pm there are family-friendly activities like an inflatable obstacle course, rock wall, bouncy castle, fun games for kids, a cornhole tournament, hay rides, paint pouring demonstrations, airbrush tattoos and a fall selfie train station, and more.
Inside, Hopewell hosts traditional bingo from 1 p.m. to 3 p.m. and Hitmix Bingo with great prizes from 3 p.m. to 5 p.m. There will also be a cake shop and several grocery vendors including Mike's Kettle Corn, Funnel Cake Men, and Kona Ice.
This fun event is suitable for all ages and we hope you will join us to celebrate the arrival of fall.
Fundraising campaign for soups and baked goods
A soup and baked goods fundraiser will be held at First Church of God, 541 Lutz School Road, Indiana on Thursday, October 7th and Thursday, October 21st.
Take-away or outdoor seating (weather permitting) is available.
The complete lunch consists of soup (chicken noodles, potatoes, chilli or sausage), crackers, dessert and drink.
Soup will also be available in quart. Baked goods will also be available individually.
The daily offer is a hot dog with or without sauerkraut.
Pre-order at (724) 463-0941 or (814) 421-2205.
Annual craft exhibition planned
PENN RUN – The Penn Run Christian Outreach Center, a service of the Penn Run Church of the Brethren, is hosting its annual Christmas exhibition on Saturday, November 13th, from 9:00 a.m. to 2:00 p.m. The center is located at 75 Grace Church Road, just off Route 553 past the church.
The organizers are looking for home party and craftsmen for the event.
More than 50 themed baskets will be auctioned off in silence from 9 a.m. to 11.30 a.m., followed by a cake auction at noon.
The church will be offering their almost famous homemade soup sale, featuring homemade vegetable beef and chicken noodles, available in bowl, pint and quart. Breakfast and lunch items as well as cake items are sold.
For more information about the places, contact Lori Fackler at (724) 349-2929 before 9:00 p.m. or at [email protected]
[ad_2]