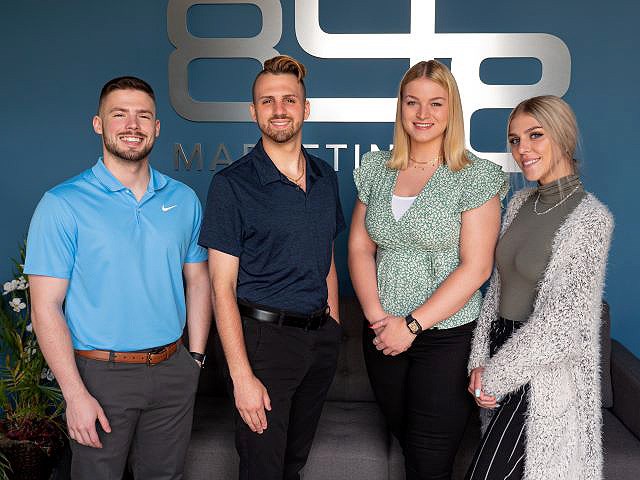 Here's a look at business news from the Mahoning Valley
Also among today's business updates: Kennsington Grille; Waypoint 4180; Ohio State Bar Association; and the Catholic Diocese of Youngstown.
CANFIELD – 898 Marketing, 5721 Shields Road, Suite A, recently welcomed its summer interns for 2021.
"Our college student internship initiative has spawned young professionals who have had an immediate impact on various companies, including ours, after graduation," said Cailyn Chrystal, director of internship programs at 898 Marketing, in a press release.
This year's summer interns are:
Ivan Bosnjak, a Youngstown State University student expected to graduate in May 2023 with a Bachelor of Science degree in Information Technology and a Bachelor of Science degree in Business Administration. Bosnjak is a graduate of Boardman High School. At 898 Marketing, he will assist the video production team with recording and editing various projects and the digital team with a variety of initiatives including reporting, search and optimization.
Shelby Byrne, a YSU student who will complete his Bachelor of Science in Business Administration with a minor in Marketing and Social Media Campaigns in December 2022. She is a graduate of Canfield High School. This summer she will be working with various clients on blog and social media content development, and working with the digital team on Google and SEO projects.
James Kerrigan, a student at the University of Notre Dame in South Bend, Indiana who is expected to graduate with a Bachelor of Arts degree in Economics in May 2022. Kerrigan is a graduate of Ursuline High School. At 898 Marketing, he will work with the digital team on a variety of client initiatives, including reporting and optimizing digital campaigns, as well as Google and SEO projects.
Morgan Lewis, who completed his Bachelor of Arts and Sciences at Ohio State University with a focus on communication studies in May 2021. She is a graduate of McDonald High School. This summer, she will be helping 898 Marketing create content, including blogs, press releases, and social media posts.
Kennsington Grille and Waypoint 4180 host job fair
CANFIELD – Kennsington Grille and Waypoint 4180 are hosting a job fair on July 26th from 11am to 1pm and 5pm to 7pm at Waypoint, 4180 Westford Place.
Kennsington Grille hires a prep cook, line cook, bartender, and waiter. Waypoint is looking for chefs, dishwashers, bartenders and waiters.
Job seekers are asked to bring their résumé, wear appropriate clothing and be prepared for on-site interviews.
Attorney Richard Magill appointed in a key role at OSBA
COLUMBUS – Ohio State Bar Association President David Lefton recently appointed District Attorney Richard Magill as Chairman of the Association's Labor Compensation Law Department for a one-year term beginning July 1.
McDonald's Magill is a partner at Heller, Mass, Moro and Magill Co. LPA, 54 Westchester Drive # 10, Youngstown, where his focus is on employee compensation issues.
In addition to serving in the OSBA Workers' Compensation Section, Magill serves as a liaison with the Ohio Industrial Commission. He is a member of the Executive Committee of the Trumbull County Bar Association and a member of the Portage County Bar Associations and the Mahoning-Trumbull County Bar Associations.
Magill received his bachelor's degree from Ohio State University and his law degree from Cleveland-Marshall College of Law.
Huyck appointed Media Relations Coordinator for the Diocese of Youngstown
YOUNGSTOWN – Rev. David J. Bonnar, Bishop of the Catholic Diocese of Youngstown, has appointed Justin Huyck as Diocese Media Coordinator effective September 1st.
The position is responsible for implementing communication policies and programs that support the Church.
Huyck is a graduate of Cornell University, where he studied political science. He earned a Masters of Arts in theology and liturgy from the Catholic Theological Union in Chicago. Before coming to Northeast Ohio, he served in Albany, NY, Chicago, and Kingston, Ontario, Canada.
Since 2013 Huyck has been working as a pastoral assistant and head of adult education for the Archangel St. Michael in the canton. In St. Michael and in his previous congregations, he has supported various aspects of church life, including liturgy, adult belief formation, retreats, small faith groups and youth and youth services, as well as pastoral planning and development of church governing bodies.
"Justin's skills in written, oral and human communication provide the Diocese of Youngstown with the opportunity to proactively advance the work of the Church through a variety of communication channels," Bonnar said in a press release.
– Do you have a business announcement that you want to share? Email at [email protected]