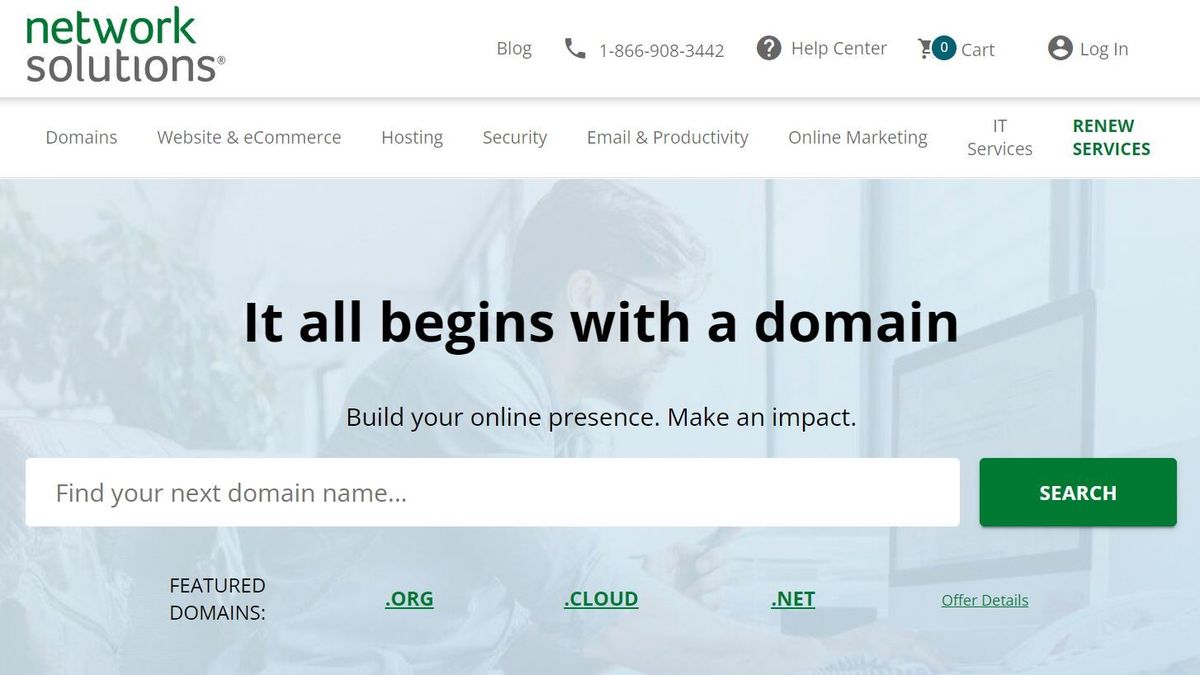 Review of Network Solutions domain registration service
Network Solutions is an American domain name registrar and web hosting service established over four decades ago. It is one of the largest web hosting platforms with almost 7 million domain registrations. The company is a subsidiary of Web.com, a web hosting giant.
Domain name registration is Network Solutions' primary service, but they offer additional offerings such as web hosting, web design, online marketing, and search engine optimization.
We've tested the ins and outs of Network Solutions to give you a comprehensive, unbiased review. We evaluated the platform based on certain factors including pricing, customer support, features, ease of use, etc.
plans and prices
Network Solutions charges different fees for different services. Domain names start at $10 and up. The generic ones like .com, .net and .org cost between $10 and $20 per year while uncommon ones like .app, .club and .tips cost between $20 and $40 per year. Network Solutions domain name prices are competitive.
Network Solutions offers web hosting services for $4 to $40 per month. It offers four hosting plans; Starter ($4 monthly), Essential ($10 monthly), Professional ($35 monthly) and Premium ($41 monthly).
Network Solutions offers a free website builder to anyone who purchases a hosting plan. However, the web builder's e-commerce features require payment. The company offers three ecommerce web builder plans; Starter ($30 monthly), Standard ($55 monthly) and Premium ($100 monthly). With Starter, Standard, and Premium, you can list up to 25, 300, and 100,000 products in your online store, respectively.
Network Solutions also offers SSL certificates to protect your website from $50 to $580 per year. It offers six SSL plans; UCC ($50 annually), Xpress ($60 annually), Basic ($125 annually), Advanced ($200 annually), Extended ($399 annually), and Wildcard ($580 annually).
features
Network Solutions is an all-in-one web hosting platform with many features including;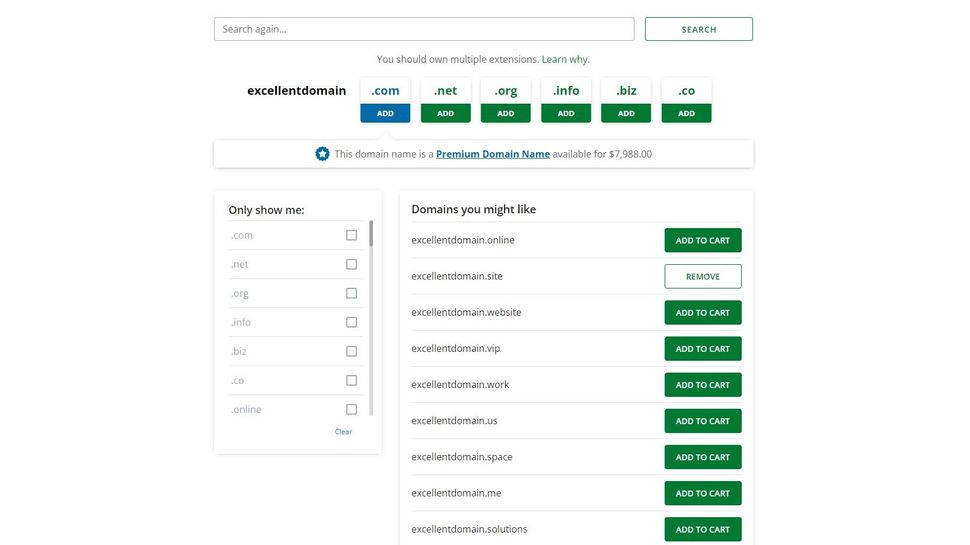 Registration of domain names
Network Solutions allows you to register available domain names. Just go to the website and search for any domain name. If it's available, you can grab it right away. Network Solutions supports hundreds of TLDs, including common ones like .com, .net, and .co, and rare ones like .VIP, .website, and .expert.
Whenever you register a domain with Network Solutions, you can also pay for private registration so no one can get your contact information from the WHOIS database. This prevents spammers from contacting you.
You can also search the WHOIS database for information about domain name owners. However, you would not find anything if a domain name owner has private registration enabled.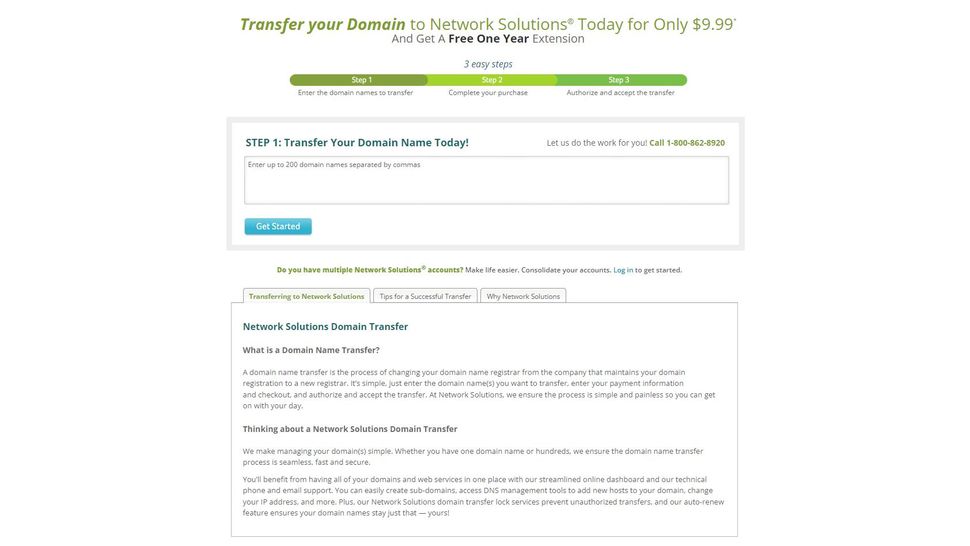 Network Solutions also allows you to transfer domain names that you have registered elsewhere to its platform. There is a one-time fee for this service.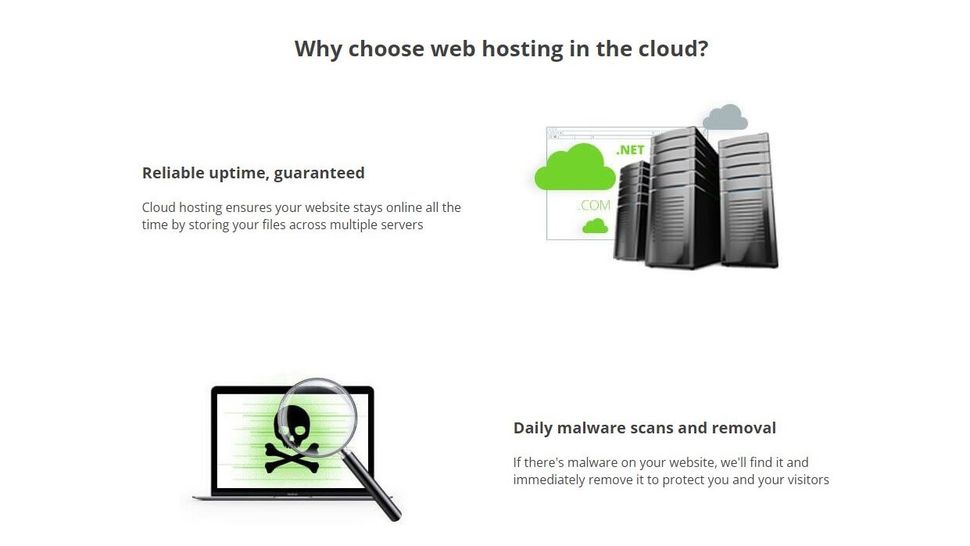 web hosting
Network Solutions offers web hosting services for users. You don't need to venture elsewhere after registering your domain when you can also host your website on the same platform. Network Solutions cloud hosting is reliable and secure.
Network Solutions offers four hosting plans; Starter ($4 monthly), Essential ($10 monthly), Professional ($35 monthly) and Premium ($41 monthly). The Starter plan comes with a website, 15GB of storage, and 5 email accounts. Essential consists of 3 websites, 300 GB of storage space and 1000 email boxes. The Professional and Premium plans include 10 websites, unlimited storage and unlimited websites.
All Network Solutions hosting plans include a free business LLC formation service. It includes free legal assistance for clients in forming limited liability companies for their businesses. You would typically pay hundreds of dollars in legal fees for this service, but Network Solutions offers it for free. Also, all plans above Starter come with a free domain name.
Network Solutions hosting is compatible with many open source applications including MySQL, Joomla, Drupal, Ruby on Rails and WordPress. It also includes SiteLock for malware protection and CodeGuard for automated website backups.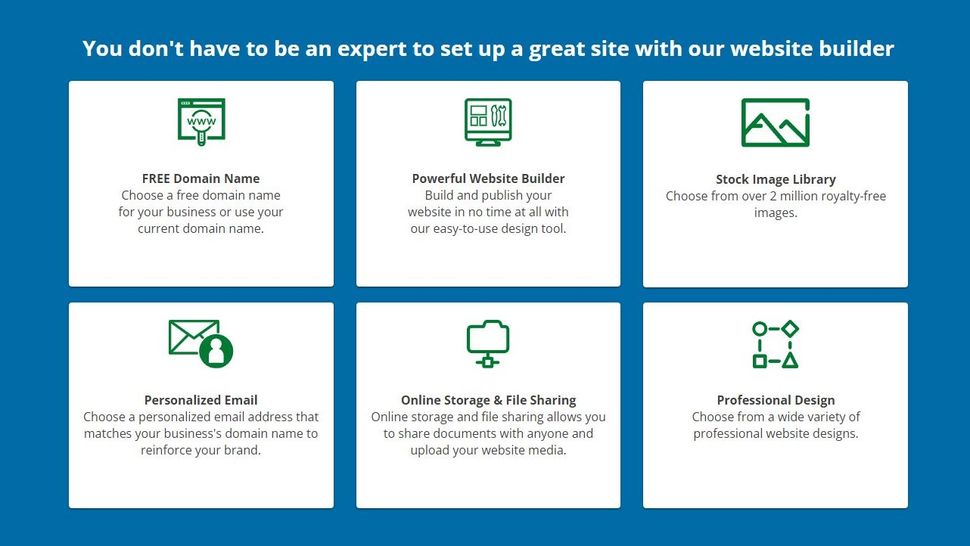 website builder
Network Solutions offers a free website builder to all customers. With this website builder, you can create functional and attractive websites without much technical effort. However, Network Solutions requires payment for the web builder's e-commerce features, and they're quite expensive ($30-$100 monthly).
With the eCommerce package, you can quickly set up an online store without much hassle. It integrates with a handful of payment gateways (like PayPal) so you can easily collect payments from your buyers. It also includes tools for online marketing, inventory management, and accounting.
interface and in use
Network Solutions has a somewhat clunky user interface. The user interface isn't as modern as some competing web hosting platforms, making it more difficult to use. We think the platform's user interface could be greatly improved.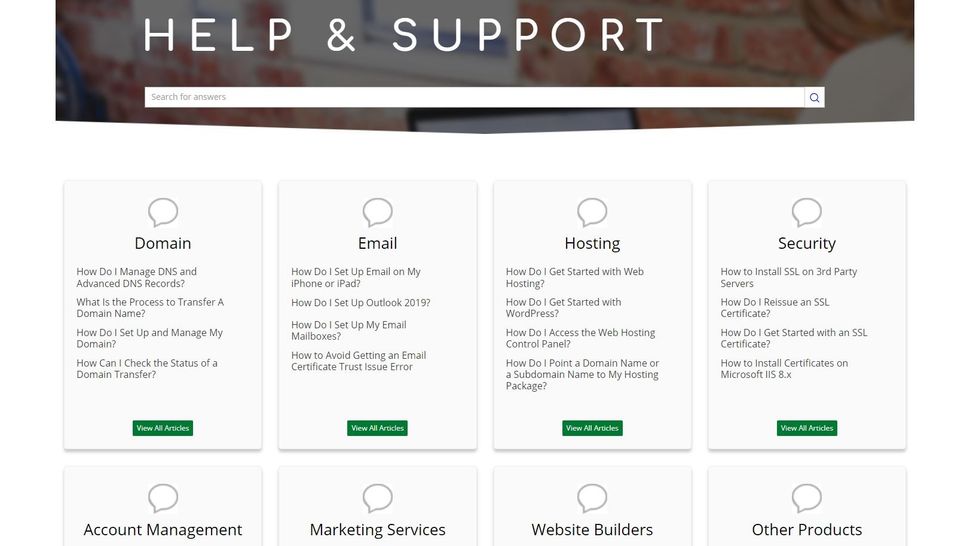 Customer service
Network Solutions offers customer support by phone. There are separate support hotlines for US and foreign users. The company doesn't have any other customer support channels, which is a downside. Telephone lines are prone to clogging when demand is too high.
The competition
Network Solutions' main competitors include Namecheap, Bluehost, and Domain.com. It's quite expensive and lags behind in ease of use when compared to these competitors.
Final Verdict
Network Solutions is a dedicated domain name registrar and web hosting service. It offers a wide range of domain name extensions and great uptime for hosting customers. However, we found a significant downside in its aggressive upselling. The platform uses some dark patterns to encourage you to buy additional products.