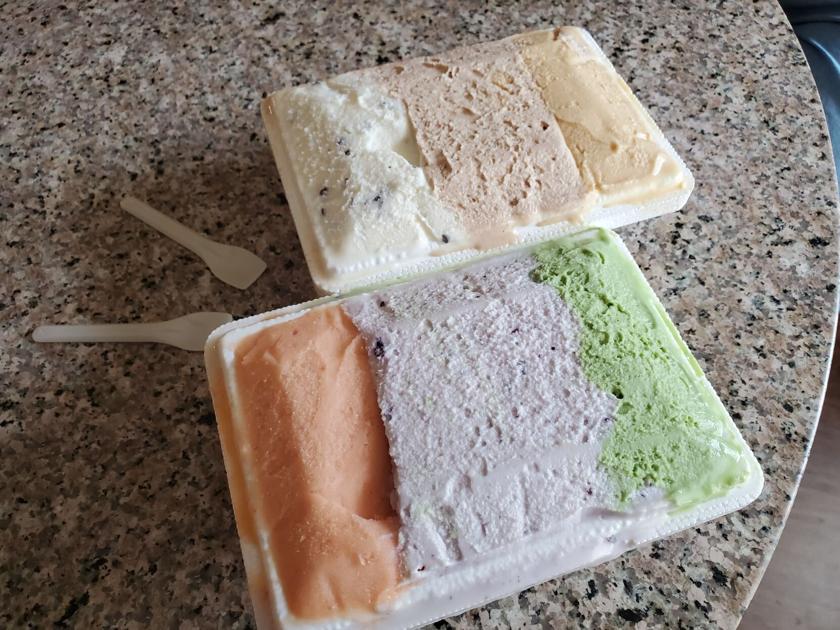 Review: Cooling off with Dolce Neve Gelato | eat Drink
[ad_1]
After the rainy weeks we had, many of us begged for sunshine. Now that it's burning outside, I almost miss the constant rain.
Luckily, we have tons of ice cream options to keep us cool, especially Dolce Neve Gelato. Both the ice cream and the sorbet are homemade goodies.
When I stopped by the store recently, I knew I was going to try and share multiple flavors, so I ordered two pints to take away, each containing up to three flavors. A to-go quart allows customers to choose from up to four flavors.
In a pint, I ordered the fruity or more interesting-sounding flavors – mascarpone and matcha, fromage blanc and blueberry, and peach sorbet. In the other, I ordered organic hazelnut, salted caramel and stacciatella.
The styrofoam pints were wrapped in plastic wrap for easier travel. I had brought a small cooler to hold on the drive home and they held up pretty well.
Mascarpone, a type of Italian cream cheese, made with matcha, a finely ground green tea powder, was quite creamy. I'm not a huge matcha fan, but I think the mascarpone really helped tone down the earthy flavor and I enjoyed it more than I thought.
The Fromage Blanc and Blueberry quickly became one of my favorites. Fromage Blanc, a type of cheese, did not add a "cheesy" taste to the blueberry. Instead, it gave it a thick and creamy texture with a rather milky taste. Small pieces of blueberry were also mixed in.
But my all time favorite in this pint was the peach sorbet. Maybe it's because peaches are in high season and I've had them in my fruit basket consistently for two weeks, but this sorbet was the most perfect I've ever tasted. It was like biting into a perfectly ripe peach, only that it was ice.
The sorbet was sweet, but not sweeter than you would expect from a real peach, and that's why I could tell that high-quality fruit was used to make it.
In the next pint, I struggled to find a favorite between organic hazelnut and stacciatella, which is just plain cream ice cream with chocolate chips. I also like to add a bit of both to my spoon. While I liked hazelnut, others in my family had the opposite reaction. So I recommend it to people who really like hazelnuts (not just Nutella). It's a very strong flavor and if all you think about is the taste and not really the nut you may not enjoy it.
The stacciatella was naturally creamy and with the chocolate chips the ideal choice for a simple ice cream that still tasted good.
The salted caramel may have to be left out of the favorites category, but that doesn't mean I didn't like it. It's very rich and the caramel explodes on your tongue. But I liked it in small amounts and I don't think I would get down a whole scoop.
Dolce Neve is also changing its menu, so grab a peach sorbet while it's still there.
Dolce Neve
Address: 4721 N. Mainstr.
hours: Monday-Thursday 1pm – 9pm, Friday 1pm – 10pm, Saturday 12pm – 10pm, Sunday 12pm – 9pm
Pricing: $ 4.95- $ 7.75 for personal servings, $ 13.25- $ 22.50 for to-go containers
Child friendly: Yes sir
alcohol: No
Healthy options: yes
Star of the show: Peach sorbet
[ad_2]