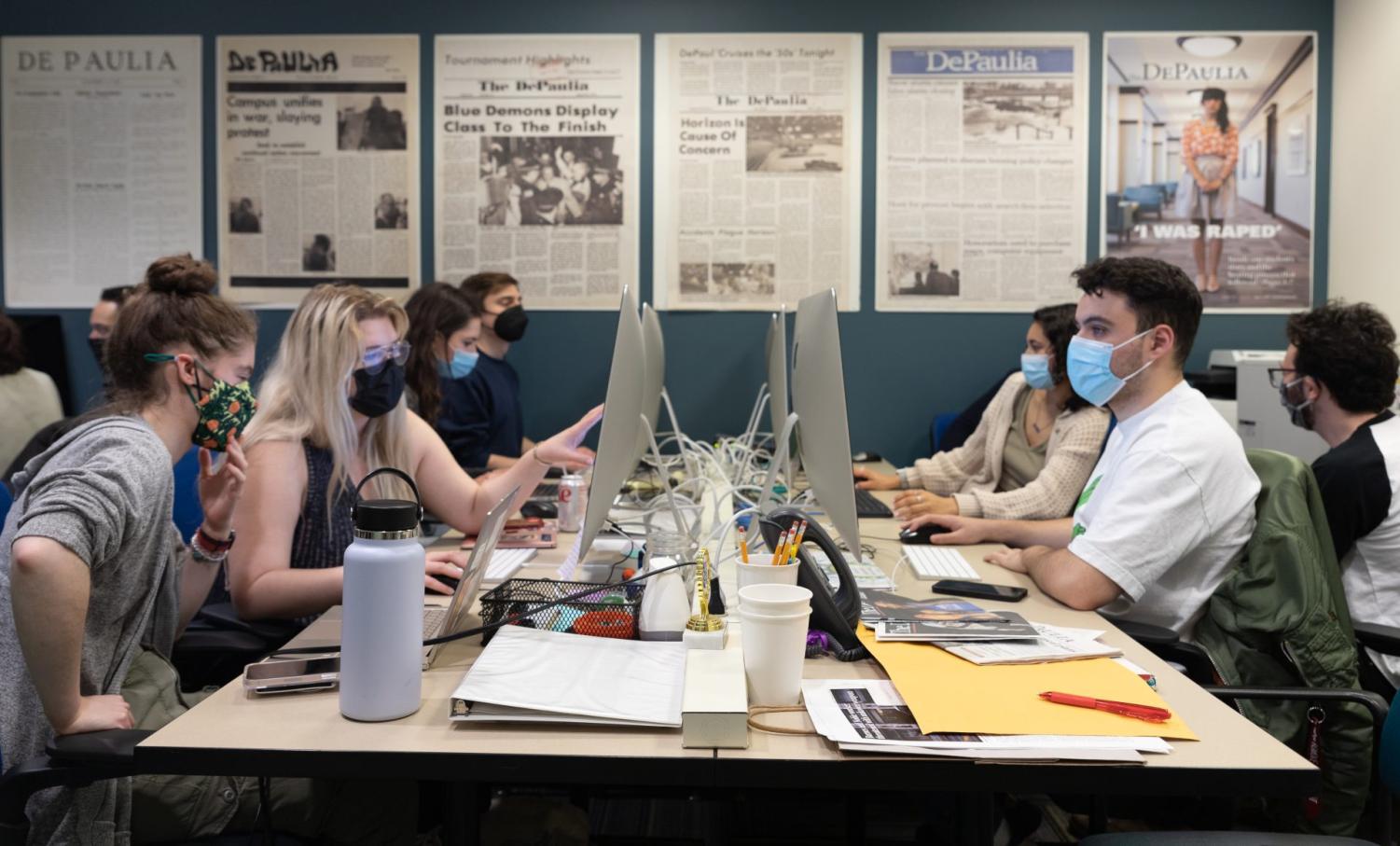 OPINION: Student media should count towards experiential learning points
Journalism is a major that relies heavily on real-world experience rather than classroom performance to succeed after graduation.
I noticed that in the second year. I started tweeting sports news and writing blog posts to get my reps and improve my writing skills. At some point I found my way into self-employment. I started hosting video interviews for a YouTube sports channel and covering politics for a small news site.
I put "covered" in quotes because I wasn't really covering politics; I wrote news articles based on existing information from larger outlets. I did not create original reports and have never spoken to a source.
That was the case for my first official internship, when I was writing for a website specializing in women's sports. Again, I didn't have to talk to sources and just wrote stories using existing coverage.
When I started working for The DePaulia in my junior year, what was expected of me changed drastically. For the first time in my life I had to learn how to be a real journalist. None of my previous experiences held me to the same standards of sourcing, verification, and accuracy as The DePaulia did—and still does.
It was the first time I really learned how to contact sources for a story, the first time I had to deal with real deadlines, and the first time my potential mistakes really impacted others. It's the most realistic newsroom experience you can get as a student.
Therefore, I was shocked to learn that my ongoing experience with The DePaulia was not an acceptable "Experience-Based Learning Experience" for CMN 394: "Make the Most of Your Communications Internship."
What was considered acceptable was my work with the YouTube channel. Don't get me wrong, it was interesting and certainly useful. But I had no deadlines, had very little interaction with my team, and worked entirely on my own schedule. It was a great experience for a busy college student, but not the most realistic of entering the workplace.
I was lucky that I had this opportunity to fall back on. Some of my colleagues struggle to find enough opportunities to meet this requirement while balancing schoolwork and their dedication to student media. Many have forgone other internship opportunities to make a significant impact in DePaul student publications.
For me it was just an inconvenience. It would have been far easier to use a more structured, traditional journalism job for my experiential learning credit. The assignments and reflections of the course were more geared towards this type of experience. Given that The DePaulia was the most realistic reporting opportunity I've had, it doesn't make sense to me why this should be overlooked as "experience-based learning."
So far, my time at The DePaulia has prepared me for the job better than my other opportunities. Many journalist internships and job advertisements mention student media participation as a requirement. It's a significant commitment, and an important one at that.
For journalism, student media are real experiences and should be treated as such.
Amber:
I have gained a lot of practical experience. From military training to multiple customer service jobs, I'm not short of knowledge that will help me in adult life.
I've spent most of my college life getting various real-world experiences from other students, and yet when it came time for my experiential learning credit, which is required to graduate from DePaul, I fell short.
With the pandemic canceling my 2020 internship, ROTC filling the majority of freshmen and seniors, and working odd jobs consistently to survive, finding "experiential learning" wasn't my first priority — until I found out I was wouldn't do so finish on time.
As the Arts & Life editor at DePaulia in my senior year, I spend about 25 to 30 hours a week grooming my seven-page section to perfection. From writing pitches to contacting writers, editing articles, collecting images and artwork to writing for the section itself, being an editor trains you for a professional job in journalism.
Not to mention that I spend Friday and Sunday in the office every week; there is little time for sideline work alongside my service job, to pay rent, and as a full-time student.
Student media is held in high esteem in the DePaul journalism community, and yet without it one never learns what is needed in the real world – it's shocking that it isn't considered for experiential learning.
Knowledge and practice of weekly and daily deadlines, as well as working with colleagues and refreshing your writing portfolio, should be more than considered for a hands-on learning based credit.
The perspective of expecting students to balance an internship alongside normal classwork and student media completely neglects the students who have to pay their own rent, especially since most internships are unpaid — and doom them to fail.
Choosing between student media and paid versus unpaid internships or possible freelance work is a choice people can make whose parents pay their rent, tuition, and groceries.
If DePaul is to boast of such a thing high number of internship opportunities, then they should be appropriate for the entire student population and not just business majors who use the student center staff as their experiential learning credit. Even random classes that meet the "Writing Range" requirement are allowed to count toward experiential learning. But the student media, where we meet with our advisor every week to improve our newspaper, is not.
As an award-winning student newspaper, The DePaulia, as well as the other DePaul student media, should be recognized as a hands-on experience. That way, they don't have to pay more than $3,000 for a course while working on their unpaid internship to launch their career.
Due to the cost of living and time commitment, I have to take my experiential learning over the summer as The DePaulia doesn't count. The stress of juggling a job and The DePaulia outside of school makes it harder to find an unpaid internship.
Rather than finish school with my degree, I will finish by paying for one final class to ensure I have the knowledge to be a "journalist" and earn a bachelor's degree.