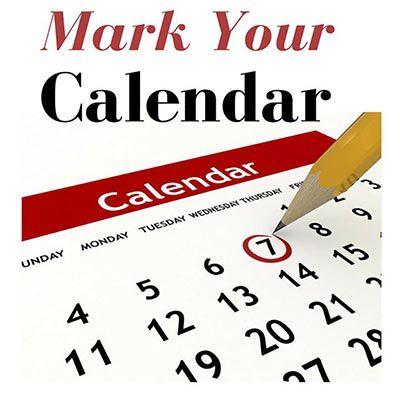 Community Calendar for Friday July 2nd | Local
The Free concert on the first Friday, with Party At The Limit, is scheduled for 7:00 p.m. Friday July 2nd, at the city green. Companies in the city center will participate in the open container; no outside coolers or drinks allowed. Parking is free on Fourth Avenue and Third Avenue decks.
Cave Spring Parade, Fireworks & Festival will be Saturday 3rd July, in Rolater Park. The parade takes place at 9 a.m., followed by a car show, Miss Liberty Pageant, live music, and craft vendors. Fireworks at 9 p.m.
The Patriotic party in the park sponsored by Redmond Regional Medical Center returns at Ridge Ferry Park Sunday 4th July. Food stands start at 3:00 p.m. and live music starts at 7:00 p.m. Fireworks will be launched from the top of Jackson Hill at around 9:50 p.m. The event is free, but parking in the park is $ 5.
The Republican Women of Floyd County will be their monthly meeting on Tuesday July 6th at Red Lobster, 700 Shorter Ave. Come for lunch at 11:15 am and the meeting will start at noon. The guest speaker is the Superintendent of Rome City Schools, Lou Byars.
The (virtual) access collaboration meets on Wednesday July 7th from 2 p.m. to 4 p.m. via zoom. The speaker is LaDonna Collins, Executive Director of the Rome-Floyd County Commission on Children and Youth. Contact Christina Holtzclaw at [email protected] or 628-246-1825 for the meeting link or materials in a different format.
ten Rome and Floyd Counties Security agencies are working on a free a Public Safety Exhibition from 10 to 14'o clock Saturday July 10th, at Coosa Valley Fairgrounds, 1400 MLK Blvd. Fun activities for all ages, equipment on display, recruiting, grocery vendors, and more.
Bethel Royal Ambassadors at the Greater Christ Temple, 1321 Martin Luther King Jr. Blvd., invites everyone to enjoy a day outdoors Water baptisms, from 8.30 a.m. to 4 p.m. Saturday July 10th. Prayer station, free Bibles. Those who want to be baptized bring a change of clothes and a towel.
The friends of the library yearly Paperback sales begins Saturday July 10th, 10 a.m. to 5 p.m., and then Monday, July 12th to Thursday, July 15, 10 a.m. to 6 p.m. at the Rome-Floyd County Library, 205 Riverside Parkway. Books are priced at $ 0.25 and $ 0.50.
Boynton Lions Club and the Ringgold Convention and Visitors Bureau are hosting a free summer movie night at 7 clock Tuesday July 13th at the Ringgold Depot to help Lions Club projects. Donations of money and used glasses are welcome. There are concessions. Children up to 15 years of age must be accompanied by an adult.
Friends of the library hosts a Quilt raffle until July 15th July in aid of the Children's Department of the Rome Floyd County Library, 205 Riverside Parkway. Tickets are $ 1, $ 6 for $ 5, or 12 for $ 10 each and are available in the library on Mondays, Wednesdays, and Thursdays from 10:00 a.m. to 12:00 p.m. or by calling 706-236-4600.
Center for Independent Living in Northwest Georgia hosts a Accessibility town hall on Wednesday, July 21st, from 2 p.m. to 4 p.m. via zoom. Email Christina Holtzclaw at [email protected] for the link to the meeting or materials in a different format. For more information, please call 706-314-0008.
NWGA Center for Independent Living invites all people with disabilities, government offices, nursing homes, youth organizations and other interested citizens Spotlight: Whitfield on Thursday July 29th 11:00 am to 1:00 pm at the Mack Gaston Community Center, 218 N. Frederick St., Dalton. For more information, contact Christina Holtzclaw at 706-314-0008 or 628-246-1825 or by email at [email protected]